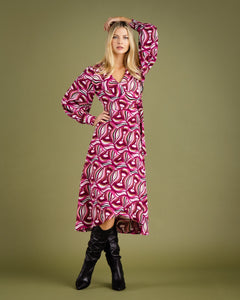 Experience the elegance and sophistication of this Marble Wrap Over Print Dress with collar, side tie, and a wave print design. Let the captivating wave print take centre stage as you step into any event or occasion with confidence.
This dress is the perfect blend of style and comfort, and will make a lasting impression when worn. The versatility of this midi wrap dress allows for various styling options;
Dress it up with heels and statement accessories for a glamorous evening look, or pair it with sandals and a wide-brimmed hat for a relaxed and chic daytime outfit. The possibilities are endless, and this dress seamlessly transitions from day to night with ease.
Wrap Over Dress
Collar Detail
Full Length Sleeves with Cuff and Button Detail
Wave Print
Print on Front and Back
Midi Length
Length from Hips to Shortest Point (37.5"/95 cms)
Length from Hips to Longest Point (49.5"/126 cms)